In the week that a deal to secure the release of Israeli soldier Gilad Shalit is announced, Physicians for Human Rights – Israel release an update on the ongoing hunger strike of more than 300 Palestinian prisoners against declining prison conditions in Israel.
Friday, 14 October, 2011 - 12:22
Source:
Physicians for Human Rights - Israel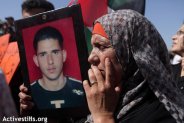 Last month, on Tuesday, September 27, 2011, more than 100 Palestinian prisoners embarked upon a hunger strike, and true to today, the number of participants has risen to over 300. The prisoners have announced that their strike will be an open strike, it will not end on a certain date; it will continue until demands are met or until lives are lost. Despite the large scale of the strike and its potential consequences, there has been very little coverage of the strike in the Israeli press. We feel it is important to get the word out and release the information we've gathered in hopes that it will raise awareness and generate a more potent public debate.
Over the last years, Palestinian prisoners have faced declining incarceration conditions, to the level of collective punishment. The conditions under which Palestinian prisoners live violate their basic rights, and defy the rights enshrined in both Israeli and International law. There has been close to no international criticism of their holding conditions, nor of how they are treated. The malevolent treatment of Palestinian prisoners has gathered momentum and has been institutionalized in laws and regulations that, according to those on strike, leave no way out. According to the prisoners, the only means left to them to protest their treatment and conditions is by engaging in a hunger strike.
The prisoner's demands are as follows:
Remove all Palestinian prisoners from solitary confinement, including political leaders. Physicians for Human Rights-Israel has been working for many years to stop the use of solitary confinement, which causes physical and emotional damage that is often irreversible. Solitary confinement is considered cruel, inhuman, and degrading treatment and even qualifies as torture.
End the holding of Palestinian prisoners in Israeli prisons, which violates international law.
Reinstate family visits for prisoners from Gaza, which Israel has fully restricted for the last five years. Reinstate family visits for several hundred Palestinian prisoners from the West Bank whose rights have been taken away, and refrain from making it difficult for families to visit.
Put and end to daily searches of prisons cells that are often conducted with force.
End strip searches of prisoners and of family members who come to visit.
End the shackling of prisoners at their ankles and wrists during visits with their families, lawyers, and during medical exams at hospital
Fulfill their right to education
Allow in books and newspapers, allow Palestinian prisoners to watch Arabic television
End severe and aggressive punishment, including the use of isolation, fines, and prohibiting the visits of family members or access to canteen.
End violations of the basic rights of Palestinian detainees. Allow all detainees to meet with a lawyer during the span of their interrogations and address the dwindling of judicial review during the length of imprisonment and interrogation.
Together with our partners Adalah and Al Mezan, we at Physicians for Human Rights-Israel support the prisoners' demands and their struggle for rights. We have been working along various channels to ensure that the rights of the prisoners are safeguarded:
1. On September 29, 2011 we released a joint statement to the press on the topic of the hunger strike. This statement is available in here in Hebrew, Arabic, and English.
2. On October 2, 2011 we released an urgent joint letter to the Israeli Prisons Service (IPS) on the issue of safeguarding the rights of 'security prisoners' engaging the hunger strike. The letter is available here (Hebrew).
3. PHR-Israel issued a call to action among our medical volunteers asking physicians to visit the prisoners participating in the hunger strike. We are proud that 26 physicians and 16 interpreters came forward, offering their time and services to examine those on hunger strike. Our formal request on behalf of the physicians to enter the prisons was sent on October 4, 2011, though an answer was only received on the 11th. The IPS rejected our request, saying that according to their guidelines, independent doctors are allowed to visit prisoners only following requests by prisoners themselves or their families, and if requested without connection to special conditions like a hunger strike. We are now working on submitting additional requests in the name of prisoners and their families.
4. PHR-Israel's Ethics Committee is also involved. On October 6, 2011, a complaint went out to the Ministry of Health, the Israeli Medical Association, and the IPS on the issue of IPS guidelines on the treatment of prisoners on hunger strike and the entry of independent doctors into the prisons. Hunger strikes bring up a variety of ethical dilemmas: how physicians should respond, the force feeding of prisoners while they are shackled, visits by independent doctors, dual loyalty of physicians employed by the prisons service, etc.
5. In addition to these efforts, PHR-Israel's Prisoners and Detainees Department continues to work daily to collect data on the situation inside the prison walls. We are also direct contact with the prisoners' families.
We at Physicians for Human Rights-Israel call on the Israeli Prison Service to respond to the prisoner's demands and to cease their abusive policies. We stress that harm to Gilad Shalit does not justify harm to the rights of the Palestinian prisoners, and should not be linked in any way to Gilad Shalit's conditions of imprisonment, which we have opposed in the past. We call on the IPS to refrain from causing further harm to prisoners participating in the hunger strike and emphasize that it is their professional and ethical responsibility to work to protect the wellbeing of the prisoners engaging in the strike. The treating doctors must closely monitor each prisoner's medical condition and provide professional medical assistance as needed and as agreed to by the individual. In addition, the IPS ought to allow independent medical staff of the prisoners' or prisoners' families' choosing, to provide neutral examinations, as set forth in World Medical Association guidelines.
Dr. Ruhama Marton, President and Founder of Physicians for Human Rights-Israel: In theory, supporting a hunger strike contradicts our principles as doctors. We dedicate ourselves to saving lives, especially in life threatening cases. However, as a doctor, I am also supposed to respect the will of my patient and not deprive him of the path he has chosen to fight for what he believes. For this reason, I am at peace with his decision and make sure that I am there for him and that I will respect his wishes. I do not join doctors (who are not doctors) who try to force feed the prisoner. This is what we're trying to ensure here. And of course, like all forms of medicine, prevention is the best policy. The authorities should never have brought individuals to a point where they feel that embarking on a hunger strike is the only way left to fight for their rights and their dignity.
Physicians for Human Rights-Israel (PHR-Israel) is a non-profit, non-governmental organization that strives to promote a more fair and inclusive society in which the right to health is applied equally for all.
Image: Activestills.org - A woman carries a picture of her imprisoned son during a demonstration in support of the Palestinian prisoners' hunger-strike.
Ofer military prison, Betunia, 11.10.2011.
This work is licensed under a Creative Commons Attribution-Noncommercial-Share Alike 3.0 Unported License.