Friday, 28 May, 2010 - 09:48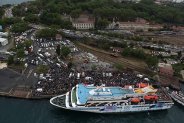 To break the blockade of Gaza a flotilla of eight boats carrying hundreds of peace activists is making its way to the Gaza Strip by sea, carrying several thousand tons of supplies for the beleaguered population.
The flotilla includes a multinational mix of activists from Greece, Turkey, Germany, Holland, Sweden, the UK, Ireland and several other countries, as well as several Israelis, including even a member of Israel's parliament, MK Haneen Zou'bi, a Palestinian citizen of Israel.
Expected to arrive over the weekend, the flotilla has provoked a flurry of preparations on the part of the Israeli government, security establishment and media, who fear that a mishandled response may damage Israel's already controversial public image with regard to its policies in the occupied Palestinian territory.
The Israeli official publicity line has been that there is no shortage of supplies in Gaza and that the flotilla's mission is simply a provocative act.
Embarking from various ports in the Mediterranean, the activists hope to provide aid as well as demonstrate solidarity and protest against Israeli government policies towards Gaza.
Israel's Ministry of Foreign Affairs has been working overtime, holding bilateral meetings with ambassadors of the countries from which the activists have joined the flotilla, and explaining their plans in advance.
In an unprecedented move, the military and political establishment has made meticulous preparations for the flotilla's arrival, involving thousands of soldiers and officials.
The Israeli navy has declared its plans to intercept the boats at sea, take control over them to prevent their arrival in Gaza, and divert them to the Israeli port of Ashdod just north of Gaza. They plan to invite foreign journalists to board the navy's boats, in order to counter foreign journalists on the flotilla.
At the same time, the Israeli army has announced its intention of using electronic jamming equipment to prevent media from broadcasting events during the takeover. The Association for Civil Rights in Israel has sent an urgent letter protesting against this plan and comparing it to measures taken in China and Iran.
In Ashdod, a temporary holding facility has already been prepared to receive the activists, who will undergo questioning and security checks before being offered one of two options - either signing an undertaking not to visit Israel again and receiving a free flight ticket home – or being arrested and sent to a detention facility in nearby Beer Sheva.
Israeli officials claim they have instructed troops to carry out their mission with 'minimum use of force' but have also made clear that they will act firmly to stop the vessels from reaching Gaza. 'Provocative behaviour' on Israeli land 'will be handled by Israel Prisons Service (IPS) staff', according to Israeli officials.
Israel's official position is that 'there is no shortage of humanitarian aid to Gaza, as food products, fuel and supplies are constantly transferred into the Gaza Strip by the international organizations.'
However, Amnesty International and other rights groups such as Israeli organization Gisha have countered this claim.
In its Annual Report for 2010, released today, Amnesty International has harshly criticized Israel's 3-year blockade of the Gaza Strip, saying that as many as four out of every five of the residents of Gaza are dependent on aid as a result.
Imposed in June 2007, the blockade has "continued to cut off almost 1.5 million Palestinians from the rest of the world, isolating them in Gaza's cramped confines, and greatly limiting the import of essential goods and supplies."
The Report continues: "[T]he scope of the blockade and statements made by Israeli officials about its purpose showed that it was being imposed as a form of collective punishment of Gazans, a flagrant violation of international law."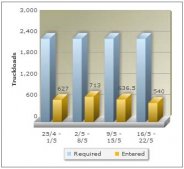 According to Gisha, unemployment rates in Gaza are around 35%, a fact closely related to Israel's sweeping 3-year ban on the entry of raw materials to industrial plants and factories in the Gaza Strip. Over 90% of industrial establishments are closed or are operating at less than 10% of capacity, and numerous types of harmless supplies such as clothes, toys and herbs are banned from entry into Gaza in an arbitrary manner, says the group.
Israeli spokespersons have claimed they will allow the flotilla to unload its aid cargo in Ashdod and then transfer it, after security checks, and "in accordance with procedure," to Gaza.
However, Gisha has pointed out that no clear procedures exist for the transfer of goods to Gaza, nor have any clear guidelines been published regarding permissible goods. Cement, paper and coriander have all been blocked.
Israeli media is largely hostile to the flotilla. Its largest daily, Yediot Aharonot, declared in an editorial yesterday "This is not an innocent story about humanitarian aid to the Gaza Strip. This is, first of all, a cynical political story by the Turkish government, which is riding the humanitarian element in order to break Israel's and Egypt's policy towards Hamas." The paper cautions that "The Turks are explicitly talking about opening a regular sea route to Gaza without Israeli oversight," and warns that "If this flotilla gets through, the way will be open and the closure of the crossings will be meaningless." The author concludes "It may be that the policy of blockading the Gaza Strip is mistaken – both politically and from a humanitarian perspective – but it must be Israeli society that decides this."
Israeli free daily, Yisrael Hayom added in its own editorial that "There is no humanitarian crisis in the Gaza Strip but Hamas is not passing on the opportunity to convince the world that there is."
Cyprus, on the flotilla's planned route, has decided to prevent its passage through its territorial waters, but the activists have said they are determined to reach Gaza.
This article may be reproduced on condition that JNews is cited as its source
Photo of flotilla by freegaza
Graph of needs (in blue) vs. supply (in yellow) of goods between April 2009 and May 2010 by www.Gisha.org
This work is licensed under a Creative Commons Attribution-Noncommercial-Share Alike 3.0 Unported License.