Death toll in Gaza up to 15 as Israeli air-force strikes civilian targets, militants. AlQassam Brigades announces 'end to truce'; PRC denies involvement in Eilat attacks.
Saturday, 20 August, 2011 - 10:34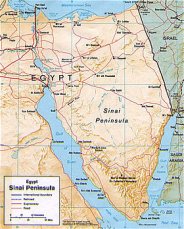 Egypt has declared its decision to recall its ambassador to Israel following the killing of several Central Security Force officers near the Egypt-Israel border on Thursday.
Egyptian government officials have called an emergency cabinet meeting to discuss the recent escalation and are demanding that Israel probe the killing of several of its officers and issue a formal apology.
The response came after a day of confusion during which Egyptian government officials offered conflicting explanations for the deaths of its officers, describing them variously as having been the result of crossfire, a bomb, and collateral damage during an Israeli helicopter rocket attack on terrorists. Unconfirmed reports on Twitter suggest that forensics tests on the bodies showed them to have died of gunfire. There are also conflicting reports regarding the number of incidents and the number of officers killed; the latter ranges from three to six.
The current escalation began on Thursday, when six Israeli civilians, one IDF soldier and one border guard special unit sniper were killed in a complex attack, involving gunfire on a bus carrying soldiers to the southern town of Eilat, an antitank missile on a civilian car and an IED (Improvised Explosive Device) against an army patrol vehicle, followed several hours later by gunfire from the Egyptian side of the border on Israeli special forces in the area. The attacks are thought to have come from the Egyptian side of the border in the Sinai desert, but Egyptian authorities have denied this possibility.
Immediately following the first part of the attack Israel's Defense Minister Ehud Barak claimed that it had originated in Gaza. On Thursday evening a targeted strike on a building in Rafah in the south of the Gaza Strip killed six people, including a woman and a small child, as well as at least two members of the Popular Resistance Committees (PRC), accused by Israel of organising the attack. On Friday, however, the PRC denied all involvement in the attacks.
Shortly prior to the attacks, on 12 August, the Egyptian army in north Sinai had commenced an operation whose aim was to 'cleanse the area of terrorists' and stop repeated sabotage of the Egypt-Israel gas supply pipeline in the area.
Under the Camp David peace accords between Israel and Egypt, the region is partly demilitarised and the number of Egyptian armed forces allowed there is limited by Israeli approval. This approval was given in advance of the 12 August operation, which was apparently related both to Egyptian government aspirations for control over restive anti-government communities and recently-evolved militant groups there, and to Israeli gas interests. It has now been compounded by Thursday's attacks.
Emergency status has reportedly been declared in two Egyptian hospitals, in Giza and in the north-Sinai town of El Arish, but the circumstances, numbers and identities of casualties arriving there are unclear.
According to unconfirmed sources, following the Eilat attacks on Thursday Israel requested freedom to respond within Egypt and to take temporary control of a small area around the Taba border region, but Egypt refused. According to the same sources Israel then commenced airstrikes on Thursday night along the border, and in one strike two Egyptian conscripts and one officer in the Central Security Forces were killed. There is little information but some reports say that clashes continued between Israeli and Egyptian forces. It is unclear how the other Egyptian officers died.
Until the killing of the Egyptian officers, joint military coordination between Egypt and Israel was maintained. This coordination has been controversial in Egypt, partly due to public mistrust of Egypt's current authoritarian intermediate military government, the Supreme Council of Armed Forces (SCAF), which has been criticised for detention and abuse of up to 12,000 Egyptians following recent pro-democracy protests.
The Israeli embassy in Giza and its consulate in Alexandria were the sites of angry demonstrations by Egyptian protesters yesterday and last night. Demonstrators called for the ousting of the Israeli ambassador following a renewal of airstrikes against the Gaza Strip, and hoisted Palestinian flags on the buildings.
In Gaza, three more Palestinians were killed overnight by a drone attack, bringing the death toll in Gaza since Thursday evening to fifteen, according to Palestinian sources. The three, an ICU doctor, his brother alleged by Israel to be a militant, and a five-year-old boy, were killed in a targeted strike on a motorcycle.
Gaza residents and medics are reporting intense bombardment of both militants and civilian structures, and constant flyovers by F16 aircraft, Apache helicopters and drones in all parts of the Gaza Strip. Air-strikes focused last night mainly on the Khuza'a area of Khan Younis. Power and internet connections were reportedly down sporadically, and civilians reported on Twitter that they had received warning calls to their phones requesting that they leave before air-strikes. Israeli sources also confirm bombardment of multiple targets in Gaza, on a scale not seen since the attack on Gaza in 2008-2009.
The armed wing of Hamas, the Ez-Eddin AlQasssam Brigades has announced an end to the truce or 'lull' in place since 2009, calling upon all armed groups to respond to Israeli airstrikes. It is as yet unclear what this will entail in practice. The political leadership of Hamas, in contrast, has reportedly called for a halt to the escalation.
A little known group called Tawhid Wa-AlJihad has reportedly claimed responsibility for the Eilat attacks, but its identity is unclear. A group by the same name allegedly took responsibility for the kidnapping and murder of Italian peace activist Vittorio Arrigoni in Gaza last April.
In Israel, three Palestinians workers were injured last night by a rocket attack launched from Gaza on the southern Israeli town of Ashdod. Earlier on Friday, seven people were wounded, one of them seriously, in a Grad rocket attack on a synagogue in Ashdod. Over thirty rockets have been fired on Israeli towns in the area since Thursday's attacks, and their residents have been requested by authorities to remain near shelters.
Israeli Prime Minister Binyamin Netanyahu vowed yesterday to continue the 'retaliation' against Palestinians, after claiming earlier that the people behind the Eilat attacks were now dead. Opposition leader Tsipi Livni has also supported military operations.
Israeli coverage of the events initially focused on Gaza and Israel, and little information has been disclosed regarding events unfolding in the Sinai peninsula. However, military commanders and politicians are increasingly saying that the Israel-Egypt border is no longer 'safe or peaceful'. Some Israeli military experts have suggested that Israel either take control of the Philadelphi Route separating the Gaza Strip from the Egyptian Sinai, or even act within the Sinai.
Israeli social protest demonstrations scheduled for tonight in Tel Aviv have been called off and are to be replaced by a mass memorial march to the dead.
Recommended Twitter sources in Gaza: @WillOuda, @Solarah.
This article may be reproduced on condition that JNews is cited as its source
Image from Wikipedia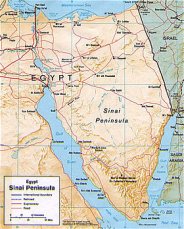 This work is licensed under a Creative Commons Attribution-Noncommercial-Share Alike 3.0 Unported License.