Hundreds demonstrate in Jerusalem against sex segregation on buses.
Sunday, 14 March, 2010 - 13:14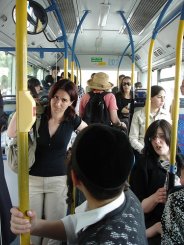 Israel's Haredi (Ultra-Orthodox Jewish) community is posting 'modesty guards' and enforcing segregation on buses, obliging men and women to sit separately on more than 70 bus routes making 2,500 journeys a day, according to a report released last week.
Israeli non-profit organization 'Hiddush' – for Religious Freedom and Equality – marked International Women's day on March 8 with a new report exposing widespread sex segregation on buses.
The report's author, journalist Shahar Ilan, writing on his blog, called them "Apartheid Lines".
Hiddush (Religious Freedom and Equality) says in its report that women are required to sit at the back of many buses while the front seats are reserved for men. In some cases they may not use the same entrance as the men.
Women who do not comply are intimidated and bullied by other passengers, or by representatives of the Haredi community acting as so-called 'modesty guards' who also pass judgement on the way women dress.
A parliamentary committee has said that 'institutional recognition of segregation between men and women… does not comply with the principle of equality.' But in February, Transportation Minister Yaakov Katz, of the right-wing Likud party, allowed gender-segregated bus lines to remain in operation 'on a voluntary basis'.
The Hiddush report shows that segregation is not limited to journeys between orthodox Haredi communities. It found it in force on 63 official bus lines and at least 10 unofficial lines, mostly on inter-urban routes, accounting for a total of 2,500 journeys per day around Jerusalem, to northern and southern Israel and to settlements in the occupied West Bank. Thirty-nine of the segregated routes are operated by Israel's largest bus company, Egged.
On some routes segregated buses are the only ones available. There is even a gender-segregated bus line to north Tel Aviv, the heartland of Israeli secularism.
Hiddush and Israel's Religious Action Center marked International Women's Day on March 8 with calls for people to demonstrate against the growing trend towards sex segregation on buses, which faces considerable public opposition.
On Saturday, about one thousand people held a rally outside the Prime Minister's residence, calling for an end to the practice.
Even within the Haredi community there are voices of dissent.
An opinion survey commissioned by Hiddush showed that 90% of Israeli Jews opposed gender-segregated buses or thought they should be strictly limited. 81% of religious Jews were opposed or wanted the practice restricted - a view shared by 29% of Haredi people responding to the survey, 23% of men and 31% of women.
According to the Hiddush report, the move towards gender-segregation on buses, initiated in 2003, was led by the Hassidic Ultra-Orthodox community in Israel, represented in the Knesset (parliament) by the 'Agudath Israel' party. Hassidic communities are considered stricter in issues of gender segregation and more hardline in their attitudes to women than Lithuanian Ultra-Orthodox Jews, represented by the 'Degel Ha-Torah' party, who prefer married couples to sit together.
This article may be reproduced on condition that JNews is cited as its source.
This work is licensed under a Creative Commons Attribution-Noncommercial-Share Alike 3.0 Unported License.