Wednesday, 16 February, 2011 - 11:23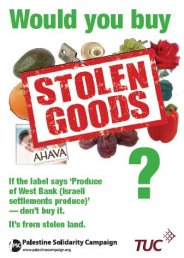 A bill (translated in full below) prohibiting a boycott of products, persons and activities connected with Israel and with Israeli settlements in the Occupied Palestinian Territory has passed another legislative stage. It was approved by the Knesset's constitutional committee yesterday.
The bill, which passed a preliminary vote in July 2010, will now be passed on to a first vote by the Knesset plenary, after which it will go to committee and to two more readings before passing into law.
According to the bill approved yesterday, the boycott prohibition applies both to Israel proper and to illegal Israeli settlements in the Occupied Palestinian Territory.
Moreover, the bill's definition of the violation of 'boycott' is very broad. Section 2 stipulates that 'It is prohibited to initiate a boycott of the state of Israel, to encourage participation in a boycott, or to provide assistance or information with the purpose of promoting a boycott.'
The current draft omits certain sections proposed in the original bill, which had included sanctions against foreign individuals or states engaged in boycotts, and was retroactive in its application.
As a result, the main targets of the bill are now Israeli citizens and residents accused of assisting or promoting boycott of Israeli or settlement-related activities and goods.
Israeli human rights groups have warned that this definition can lead to criminalization of a broad range of activities by Israeli groups and individuals, such as publication of information regarding human rights violations stemming from the settlements, refusal to travel to the settlements or do business with them, and public support for a consumers' boycott of settlement goods.
If the bill becomes law, boycott will be regarded as both a civil wrong and a criminal offense.
Violators can potentially be sued for damages of up to NIS 30,000 (GBP 5,000) without any need for evidence that injury was actually caused to the boycotted or potentially boycotted parties.
In addition, violators will be fined by the state under the Penal Law.
At the constitutional committee yesterday, those who objected to the bill walked out of the Knesset in protest at the end of a stormy debate, before the vote where the bill was approved for forwarding to its first reading. Civil servants from the Foreign Affairs and Justice Ministries objected to the bill, saying it would damage Israel overseas.
At the initiative of the Israeli group Coalition of Women for Peace, more than 40 Israeli organizations have signed a petition against the bill, stressing that it 'is a dangerous piece of legislation, which tramples basic rights, first and foremost among them the rights to freedom of expression, protest, and assembly.' The petition is signed even by groups opposed to the use of boycott as a tactic; and its signatories stress that they are united in their opinion that boycott is 'a civilian, non-violent and legitimate tool to express opinion and advance social and political change.'
Proposed bill, "Prohibition on imposing a boycott - 2010" (unofficial translation)

Eighteenth Knesset

Law proposal by MKs Zeev Elkin, Dalia Itzik, Arieh Eldad, Ophir Akonis, Tzahi Hanegbi, Moshe Gafni, David Rotem, David Azulai, Zevulun Orlev, Yariv Levin, Hayim Katz, Yoel Hasson, Tzipi Hotovely, Lia Shemtov, Robert Iltuv, Abraham Michaeli, Menachem Eliezer Mozes, Yaakov Katz, Ruchama Avraham-Balila, Magali Wahba, Karmel Shama, Danny Danon, Alex Miller, Itzhak Vaknin, Uri Maklev

P/18/2505

Bill – Prohibition on imposing a boycott – 2010

Definitions:

1. In this law -

"Area under the control of the state of Israel" – including the areas of Judea and Samaria;

"Boycott against the state of Israel" – boycott imposed on a person because of his relations with the state of Israel or with areas under the control of the state of Israel;

Prohibition on boycott against the state of Israel:

2. It is prohibited to initiate a boycott against the state of Israel, to encourage participation in a boycott, or to provide assistance or information with the purpose of promoting a boycott.

Boycott – a civil wrong:

3.
a) An act of a citizen or resident of Israel in violation of Article 2 constitutes a civil wrong and the orders of tort law [new version] shall apply to it, subject to the provisions of this law.

b) The court shall order damages for a civil wrong as defined in this law for a sum of up to 30,000 NIS to the injured party, with no need of demonstrating that injury was done; this sum will be updated on the 16th of every month according to the new index.

Regarding this -

"Index" – the customers price index as published by the Central Bureau of Statistics.

"New index" – the index of the month prior to the update.

"Basic index" – the index of June 2010.

c) If the court finds that injury was caused of a value exceeding that stipulated in section 3a, the court is permitted to rule damages according to the injury caused and subject to evidence presented before it.

Criminal law:

4. A resident or citizen of Israel who acts in violation of Article 2 shall pay double the fine defined in Article 61(a)(3) of the Penal Law 1977.

Regulations:

5. The Minister of Justice is appointed to implement this law and is authorised to set regulations for its implementation, including regulations for hearings in the District Court and for appeal of the decisions of the District Court in accordance with this law.

Explanation:

This law aims to protect the state of Israel in general and its citizens in particular from academic, economic and other boycotts, which are imposed on the state, its citizens and corporations within it, as a result of their ties to the state of Israel. In the USA there is a similar law that protects its friends from boycott by a third party, and the assumption is that a citizen or resident of the state shall not call for the imposition of a boycott on his own country or of its allies. This assumption has been disproven with regard to the citizens and residents of Israel. If the USA protects its friends through law, it should be self-evident that Israel has the duty and the right to protect itself and its citizens through law.

The balance between public and state interests and individual liberties is expressed through the limitation of the law's applicability to the initiation or promotion of a boycott, while abstaining from involvement in the personal decisions of individuals choosing a product or a service.

TRANSLATION ENDS
This article may be reproduced on condition that JNews is cited as its source
This work is licensed under a Creative Commons Attribution-Noncommercial-Share Alike 3.0 Unported License.