Jewish group launches new media centre on Israel and Palestine
Monday, 15 March, 2010 - 11:21
JNews, a new media centre specialising in human rights in Israel and Palestine, was launched on 15 March at the Free Word Centre in London.
Founded by a group of British Jews and headed by an Israeli human rights activist, the centre provides the media with news, comment and analysis from a human rights perspective.
The JNews website carries news from Israeli and Palestinian organisations and individuals, as well as other outlets with access to vital information. Comment and analysis is provided by a pool of prominent expert contributors.
Speakers at the launch included leading barrister Baroness Helena Kennedy, philosopher Dr. Brian Klug, JNews chairman Antony Lerman and JNews director Miri Weingarten.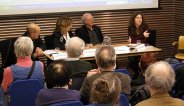 For recordings of the speeches click the following links:
Antony Lerman, Chair: http://bit.ly/cd4Zyy
Baroness Helena Kennedy QC, Patron: http://bit.ly/9bswsE
Dr. Brian Klug: http://bit.ly/duZMAy
Miri Weingarten, Director: http://bit.ly/aGxZyo
Visit the website at http://www.jnews.org.uk to learn more.
This work is licensed under a Creative Commons Attribution-Noncommercial-Share Alike 3.0 Unported License.