Friday, 27 May, 2011 - 10:22
Source:
Maan, Gisha, Haaretz, EU, EEAS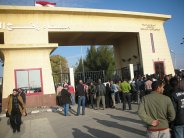 Egypt's transitional authorities announced on Thursday that they will ease conditions for entry of Palestinians from Gaza into Egypt via Rafah Crossing, as from Saturday 28 May.
Israeli human rights group Gisha has welcomed the announcement but demanded that residents of Gaza also be allowed free access to other parts of the occupied Palestinian territory (oPt), in the West Bank. Israel has expressed concern over Rafah's opening, calling it 'very problematic.'
The decision to ease conditions at the crossing follows the recent, Egyptian-brokered unity agreement between Hamas and the Palestinian Authority and marks a change in Egypt's policy, following the uprising that displaced Hosni Mubarak and his administration.
Rafah Crossing, the only point of access for Palestinians that does not share a border with Israel, was closed in mid-2007 after armed clashes between supporters of the Fatah-dominated Palestinian Authority and Hamas ended with a takeover of the Gaza Strip by Hamas.
Gaza's crossings into Israel – and thus to the West Bank and Jordan - were also closed.
Since that time, passage of Palestinians into Egypt has been severely restricted, and lengthy visa application procedures have been in force for all residents.
According to the announcement, the crossing will open on Saturday under regulations in place prior to the 2007 Hamas takeover. These exempt Palestinian women from applying for visas, as well as allowing Palestinians to enter Egypt for study as long as they have proof of affiliation to an Egyptian university. However, men aged 18 to 40 will still be obliged to apply for a visa ahead of crossing into Egypt.
Palestinian news agency Maan reports that 'the practicalities of opening the border and what that will mean remain somewhat shadowy'. Maan has also reported that Egyptian authorites have come under Israeli pressure to retain at least some restrictions.
The crossing will be staffed six days a week, from 9am to 5pm. On the Palestinian side, the Rafah crossing will be operated and guarded by policemen deployed by the Hamas government.
Rights group Gisha has noted that crossing arrangements for Palestinians will continue to be limited to those listed in the Israeli-controlled population registry, and that the expansion does not appear to include passage of goods, which are restricted to the Israeli-controlled crossings and subject to a long list of prohibitions including construction materials and exports.
Since the capture of Israeli soldier Gilad Shalit in June 2006, Israel has vetoed the implementation of the 2005 US-brokered Agreement on Movement and Access, which gave Israel security supervision over Rafah Crossing in exchange for a commitment to permit travel between Gaza and the West Bank. The suspension of the agreement made the work of the European Border Assistance Mission (EUBAM), a unit of European observers mandated to monitor the agreement, redundant. It also led to further restrictions on entry into Israel.
In response to Thursday's announcement the European Union has announced an extension of the EUBAM mission to December 2011.
However, European observers would only be able to resume their work at the formal invitation of Israel and the Palestinian Authority - and not as a result of any unilateral action by Egypt. Egypt would also have to agree and cooperate for the monitors to be able to return.
Since Israel's disengagement from Gaza in August 2005, goods have not been permitted to pass via Rafah, except for occasional humanitarian assistance. Rafah remained mostly closed to people from June 2007 to June 2010, after which Egypt opened it in the wake of the flotilla incident for limited categories including holders of foreign passports or visas and those seeking medical attention in Egypt. According to Gisha, between June 2010 and January 2011, 19,000 people crossed Rafah in both directions each month - 47% of the number of people who crossed monthly before restrictions were imposed.
This work is licensed under a Creative Commons Attribution-Noncommercial-Share Alike 3.0 Unported License.
Back to News